Welcome to The ODI
The ODI is your #1 Source for TV and Movie Spoilers, News, Previews and More!!

The site is being updated daily. If you think you have a scoop, then please click on the following button or to browse the site use the drop down menu to select a subject.



Posted by

The ODI
on Monday, July 14, 2008
Hey All,
As most of you know by now we have a nice group of Losties that will be hanging out and blogging live from all the events of the Con including the main LOST panel and more!!
You can email me if you want to join our team and help out or just to hang out and fun.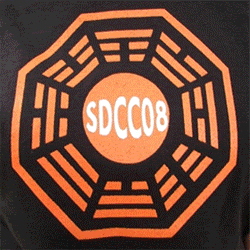 Each member meeting with us at CC will be getting an exclusive SDCC08 Dharma Logo shirt as pictured.
NOTE: Depending on demand we will offer these shirts for sale after we return from Comic Con.
With the official schedule of SDCC08 released we have finally gotten a confirmation of the panels and it is as follows:
Friday


1:45-2:45 Entertainment Weekly's The Visionaries: Showrunners— Carlton Cuse (Lost), Damon Lindelof (Lost), Josh Schwartz (Chuck, Gossip Girl), Bryan Fuller (Pushing Daisies), and Josh Friedman (Terminator: The Sarah Connor Chronicles) are the television producers who are changing the face of television with deeply immersive entertainments marked by distinctive, cutting edge storytelling. They have also been at the forefront of bringing "genre programming" or "cult TV" to the mainstream. Prepare for a candid conversation about creative integrity in a commercial medium and the future of broadcast TV in an increasingly digital world. Spoiler Alert! Upcoming plot developments may be teased. Moderated by Entertainment Weekly senior writer Jeff Jensen. Room 6CDEF



Saturday


12:00-1:00 Lost— If the most recent season finale was any indication of things to come, you will not want to miss this panel. Co-creator/executive producer Damon Lindelof and executive producer Carlton Cuse will discuss season 4 of Lost, leading up to the season finale. They will answer your questions and maybe even offer up some surprises of their own. Hall H

4:00-5:00 Lost Podcast with Jay and Jack— Jay Glatfelter and Jack Glatfelter have one of the oldest and biggest podcasts dedicated to ABC'S Lost with The Lost Podcast. Learn about the huge, dedicated online community for TV's most mind twisting drama. Join Jay and Jack for this special interview and Q&A session! Room 24A

Also noteworthy JJ Abrams appearing at the Fringe Panel:

4:45-5:45 Fringe Q&A and Trailer Screening— J. J. Abrams (Lost), Roberto Orci and Alex Kurtzman—the team behind Mission: Impossible 3, Alias, and the upcoming Star Trek feature—join fellow Fringe executive producers Bryan Burk (Cloverfield) and Jeff Pinkner (Lost), as well as stars Anna Torv (The Pacific), Josh Jackson (Shutter), and John Noble (The Lord of the Rings: The Return of the King), for an exclusive Q&A about one of the most anticipated new television series of the fall season, a drama that will thrill, terrify and explore the blurring line between science fiction and reality. The session will kick off with the screening of a trailer for the series. Television Week deputy editor and columnist Joe Adalian moderates. From Bad Robot Productions in association with Warner Bros. Television, Fringe premieres September 9 and airs Tuesdays at 9:00 PM on FOX. Ballroom 20